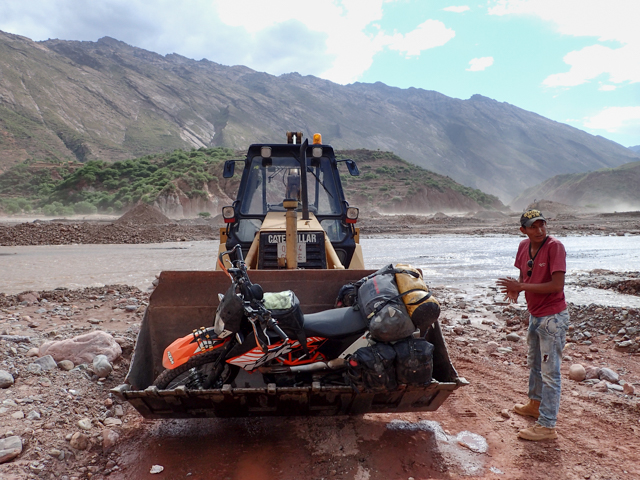 Stats
Distance: 225 km (140 miles)
Max Elevation: 4247 m (13937 feet)
Min Elevation: 2589 m (8495 feet)
Ascent: 5705 m (18718 feet)
Descent: 4423 m (14513 feet)
Description
Epic day! After taking another day off to work on the bikes a bit we decided to head to Potosi to check out the silver mines. There looked to be a good day ride just west of Sucre with some sights. Plan was to check those out and then head to Potosi. On the map it looked like if we could figure a way over a river we could go all the way to Potosi on dirt roads and not have to back track through Sucre.
We started by heading north west out of Sucre to a dirt road 20km outside of town. Fun, twisty, well paved road for the 20km. Surprisingly we only passed one gas station and the lines were very long so we decided to hold off on gas.
Shortly after hitting the dirt we pulled over to air down and I noticed my rear was already aired down. I suspected a slow leak so I actually added air. I stopped a few minutes later and confirmed I was leaking air…but at an acceptable rate. We pushed on to look for a crater near Maragua. We didn't find the crater but we found a road that went out to dinosaur footprints. About 1.5km before the footprints the road turned into single track. It looked passable enough so we decided to go down it a bit before hiking to the footprints. Less than .5 km in and there was a very narrow section of path that was elevated 3' higher than the original path as sort of a bypass. I carefully navigated through it. On Tucker's attempt his foot got hung up on a rock and he toppled over cliff side! It was a ton of work getting the bike righted and back up the path. After that ordeal we decided to forgo the footprints.
Heading back into the small town we stopped were some hikers were taking a break and asked them about the crater. They said we were in it. Check that off! Then we rode around looking for the Garganta del Diablo (throat of the devil). It was a cool cliff/waterfall you could climb down onto a ledge for some cool photos.
Next stop was the hot springs. At the end of a dirt road there was a wide river with a ton of construction going on. In the banks of the river were little pools filled by thermals. After a nice soak we decided to see if there was a way across the river. We thought if we could get across the river there'd be an adjacent dirt road heading all the way to Potosi. That way we'd get a good dirt ride all the way and not have to backtrack to Sucre and then blast pavement for 2hrs.
After wading into the water in a few different spots we determined that it was just too deep and the current too strong to do. Hanging out on the banks I was trying to get the construction workers attention. I thought maybe they could take us across in a front loader. Sure enough eventually a guy waded across the river and we negotiated the crossing. 10 minutes later he returned with a front loader and we laid my bike down and scooted it in. Up goes the bucket with the bike…I jump in and we back across through the water before he sets the bucket back down and drag the bike out. He goes back for the KLR and then we are off for Potosi.
Problem now is it's after 3pm and Potosi is 107km of hard dirt through the mountains. We also have 130 miles on our tanks so fuel was also going to be tight. We set off up this epic set of loose rocky switch backs. The road was not in good shape and we were moving slow because of it. It quickly became obvious we'd be riding into darkness. The ride was amazing though. The views don't get much better and the road wound through the mountains for km after km with each turn seemingly providing even better views. At sunset the views got even more spectacular with a nice rainbow to boot. We hit the pavement into Potosi just after dark and had some llama for dinner.
Photos
Map
Download GPX
Elevation Chart