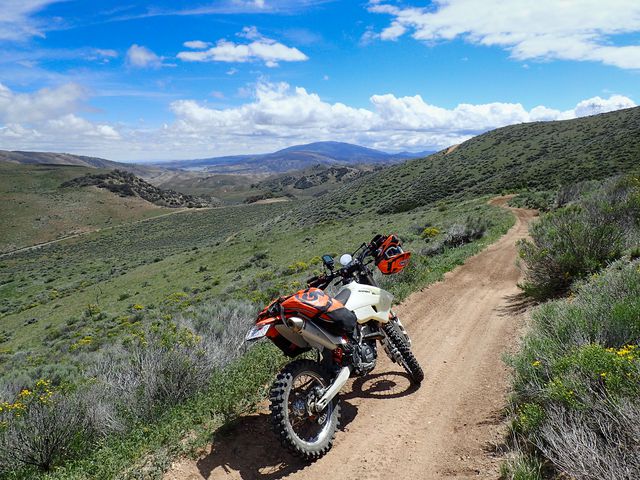 Stats
Distance: 55 km (34 miles)
Max Elevation: 1441 m (4728 feet)
Min Elevation: 1045 m (3429 feet)
Ascent: 1837 m (6029 feet)
Descent: 1953 m (6411 feet)
Description
Testing Baja setup at the Hungry Valley OHV. Bike handled pretty well even on black diamond single track with my full Baja Giant Loop. Bike Work:
Replaced water pump cover gasket.
Cleaned fuel injector.
Flushed coolant for engine ice.
Fully eliminated evap valve.
Replaced fuel tank with 4.1 gallon.
Replaced inline fuel filter.
Replaced main fuel filter.
Replaced fork seals.
Suspension lowered 1".
Suspension re-sprung and re-valved by Konflict Suspension.
Cleaned air filter.
Oil/filter change (Motorex 10w60 cross power).
Set sag to 35 mm with 4 gal gas.
Installed brp rubber mounted sub mount for Scott's stabilizer.
Installed hardwire for GPS.
Installed EFI map switch.
Installed folding mirror.
Installed fork bleeders.
Installed air filter skin.
Photos
Videos
Map
Download GPX
Elevation Chart