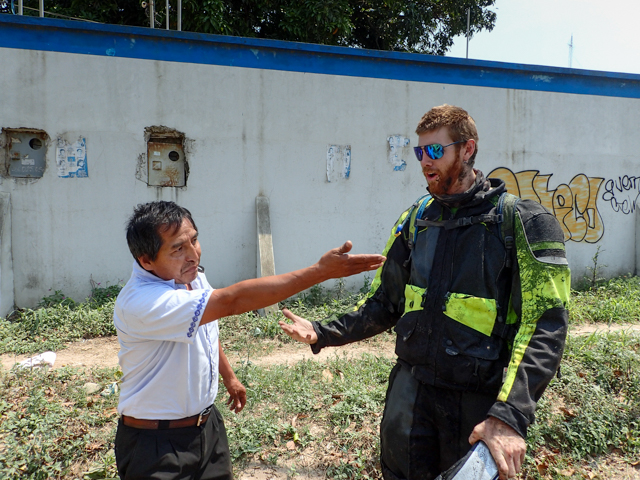 Stats
Distance: 247 km (153 miles)
Max Elevation: 2643 m (8673 feet)
Min Elevation: 404 m (1328 feet)
Ascent: 4861 m (15949 feet)
Descent: 3320 m (10895 feet)
Description
In the morning I went to the KTM dealer to see if I could get any of the parts on my list. I had spoken to the guy on Saturday via whatsapp when they were closed and he told me they had parts but were closed until Monday. Predictably and in true Latin form they had no parts they didn't even have parts for the KTM's they sell.
We headed out of town through rush hour traffic. Actually the traffic wasn't too bad for big city latin america standards. Unfortunately a van cut off Tucker and they collided sending Tucker off the road into an open sewer. There was some damage to the bike but the worst of it was the mess. Luckily there was a witness that sided with Tucker and eventually the van driver left angrily.
We pushed on to Samiapata on a beautiful twisty but bumpy paved road. After lunch we decided to see if we could take a dirt track to Vallegrande instead of the paved road. The locals all told us to take the paved road as it's way better but when I pressed I got the impression it was passable. Tucker rallied and was in for the 100 km of unknown dirt on the smallest type road on the GPS. It was a good decision. The road was the perfect dirt track back road. Zero traffic through mountains and varying terrain from rocky climbs to sandy descents and everything in between. There were green pastures, rock formations and even pine trees. There were cows, horses, donkeys, chickens and every other type of livestock. We were really enjoying the road and got into Vallegrande just before dark.
We filled up at the local gas station and they had us pull the bikes off to the side and wait 15 mins. Then they filled up containers of gas and we filled our bikes out of very of the cameras so we could pay the locals price!
Photos
Map
Download GPX
Elevation Chart