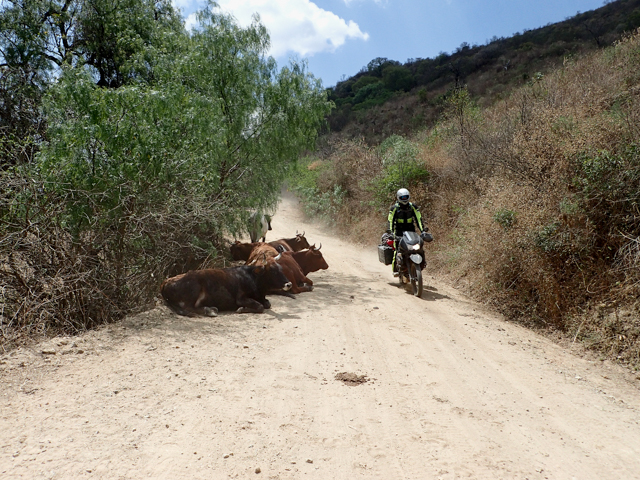 Stats
Distance: 197 km (123 miles)
Max Elevation: 2808 m (9214 feet)
Min Elevation: 875 m (2873 feet)
Ascent: 4050 m (13288 feet)
Descent: 5157 m (16921 feet)
Description
The plan for the day was to ride south from Vallegrande towards Villa Serrano with a detour to La Higuera. It's dirt roads all the way but still there was a less traveled dirt road out of Vallegrande. It was in pretty good shape even though one part had no car or bike tracks, just animal tracks. The views were epic and the road was fun. Eventually it met back up to the main dirt road and we continued on to Pucara for lunch.
After lunch we headed to La Higuera, the town where Che was captured and killed. It was a waist of time and you can skip it unless you have an unhealthy love for Che.
We had a tentative plan to check out a dirt road just north of Villa Serrano that went out to Rio Grande at a beach called Playa Fuerte. There didn't seem to be anything out there but the river so we thought it could be a good place to camp. We hit the turn off for the 24 km dirt track to the river at 3:45pm. A little late in the day for the plan to fail but we decided to go for it. This dirt track was a pretty beat up two track that doesn't see a lot of traffic. It quickly climbed up over a mountain and then wound back down to the river where there is a small village of about 4 homes. We road across the dirt soccer field and down a cow trail and found a decent camp spot. Found a little stream to get water and dipped our feet into the super mirky river water. Finally getting to swing our machetes for a purpose as we setup camp and built a fire.
Photos
Map
Download GPX
Elevation Chart