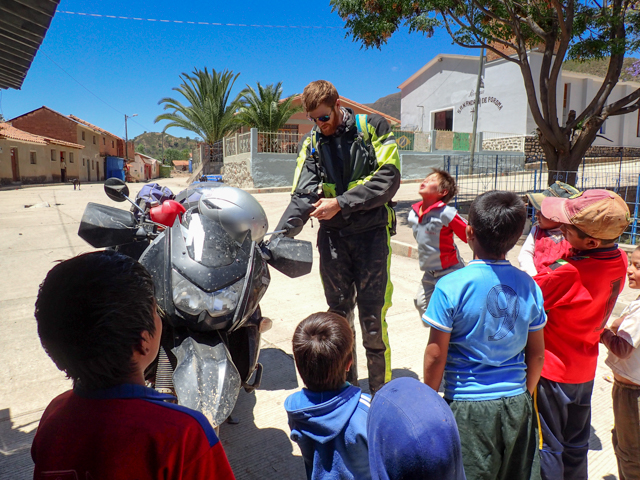 Stats
Distance: 274 km (170 miles)
Max Elevation: 3351 m (10996 feet)
Min Elevation: 1939 m (6362 feet)
Ascent: 7239 m (23753 feet)
Descent: 7218 m (23684 feet)
Description
One of the best rides in Bolivia if not the best. The views and foliage were as dynamic as the riding. This is an absolute must for any moto traveler on the slightly more adventurous side. I wouldn't say the riding was overly difficult but it was long and slow in parts.
Starting off with a 30 mile detour on the 5 because i was having way too much fun on the twisting, turning, well paved mountain road. Finally realizing the mistake and heading back to the turn off for the 190km dirt track to Torotoro we stopped for gas again because we weren't sure what would be available for the next 3 days.
The dirt road started off beautiful and fun and would be the entire way. It was very much the road less traveled. Not only did we not pass any traffic, often we were fresh tracks.
The ride had a little bit of everything. Natives out with their livestock. Kids chasing us around the town, being curious. Finding gas in 2 liter soda bottles. Small water crossings, tons of switch backs, ridge lines, narrower wooded areas and cliffside tracks.
We finished the day in Torotoro, a popular hiking destination were we will do a day hike and then continue on the road less traveled due west towards Uyuni. We will have at least two more days with no real gas stations or towns more than 5 square blocks.
Photos
Map
Download GPX
Elevation Chart