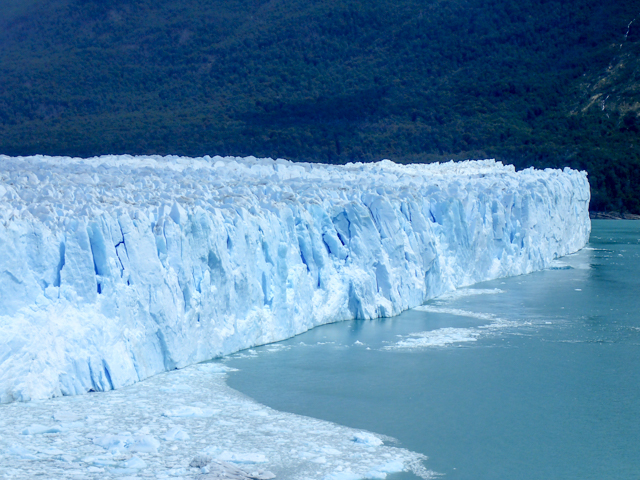 Stats
Distance: 157 km (98 miles)
Max Elevation: 351 m (1154 feet)
Min Elevation: 177 m (580 feet)
Ascent: 485 m (1593 feet)
Descent: 648 m (2129 feet)
Description
Day ride from El Calafate to the Perito Moreno glacier.
Heading out of town there was a strong head wind. There was a patch of wet pavement that had just the right (or wrong) amount of dirt and water. That combined with the head wind caused me to lose traction in both the front and the rear trying to push through the wind. Still not quite sure how I kept the bike up but it was the slipperiest pavement I've ever hit.
Not even 10 km further down the road I see a wave of dirt fling up into the air. It caught my attention and as I rounded the bend I saw an upside down car. The wheels still spinning. I pull off and run up to the car. There is a frantic lady inside. I go around to the drivers side and rip out the window (safety glass) to unlock the doors. Not 10 seconds after, another car pulls up they came running over. I opened the rear drivers side door and the other guys the passenger rear door. I'm trying to calm the lady and see if anyone is severely hurt. The other guys are just as frantic as the lady and rip the small child out of the mothers arms, who is crawling into the back screaming uncontrollably, and out of the car. They immediately put the girl into the car and take off. This makes the woman even crazier and I am struggling to get out of the car to calm her down. She's very concerned about the blood, but it's a small amount of blood and I can tell it's coming from her finger which was cut and looked to have a fair amount of trauma. I help the woman from the car and she almost passes out because she is so frantic. They race her to another car and take off.
I'm not doctor and I'm not trained in any sort of first response but I was extremely upset in the way everyone handled themselves. No one took the time to see if anyone needed immediate medical attention. No one took the time to make sure no one had any neck or back pain and shouldn't be moved. The way they basically kidnapped the girl only caused the mother to panic more. The girl was crying and didn't seem to be injured. I think everyone was wearing their seatbelt and besides the roll-over I don't think there was a heavy impact and the cabin of the car was deformed at all…all the door still worked and the drivers side door is all that was broken.
Moral of the story is wear your seatbelt and stay calm.
The glacier was beautiful and the last half of the ride was twisty and fun.
Photos
Map
Download GPX
Elevation Chart