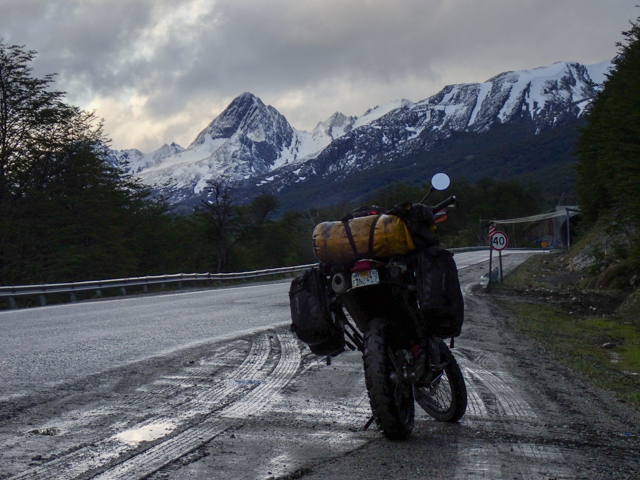 Stats
Distance: 653 km (406 miles)
Max Elevation: 490 m (1608 feet)
Min Elevation: -15 m (-50 feet)
Ascent: 3771 m (12374 feet)
Descent: 3848 m (12626 feet)
Description
I set off kind of late for the long haul across Patagonia to the ferry across to Tierra del Fuego and down to Ushuaia and that's because I wasn't planning to go. Ushuaia is the "goal" but it seems like an arbitrary one for the tourers that want to say they rode to the end. Besides it not being the most southern city (see Puerto Williams) I hadn't heard many good things about it. Usually you just see a picture of the sign and some emotional cry of joy that they made it. That's not really what I'm about but as I approached I decided that I needed to see for myself and do something here that I will reveal later if I get a break in the weather.
The ride north east out of Punta Arenas was more of the same. Lots of wind not a lot of turns. There were some water front views, however. I got the ferry to Tierra del Fuego around midday. It's a short ferry and it goes back and forth all day so I didn't have to wait.
The first part of Tierra del Fuego was worse than I had expected. Nothing but long dirt roads and outrageous wind. The border crossing into Argentina was easy and although the road turned to pavement in Argentina the riding didn't improve. I decided to stop in Rio Grande for the night. My neck was sore from the wind and it was getting late and cold even though there was plenty of light. I stopped at 3 places but they were all full so I decided to blast the last 220 km to Ushuaia before delaying more. I hadn't eaten anything all day because it took longer than I thought so camping wasn't really an option unless I stopped again and I was running out of time and needed to make a decision.
The last part of Tierra del Fuego was infinitely better than I had thought. There were trees and mountains and lakes and much less wind. The road was windy and fun…that is up until it started to snow. The temps dropped from mid 40's to low 30's in just a few kms and the snow started. It was cold but the road was surprisingly grippy despite the conditions but still I kept a gingerly pace. I got into Ushuaia a little past 9 and it took a bit to find a place that had space and a spot for the moto that wasn't near $100 a night. I found a hostel for $20 a night…still very expensive (cheap for here) but they had a little spot for one bike so I'm here and it's snowing harder now. I will be stuck here for a few days if I actually want to do or see something.
Photos
Map
Download GPX
Elevation Chart