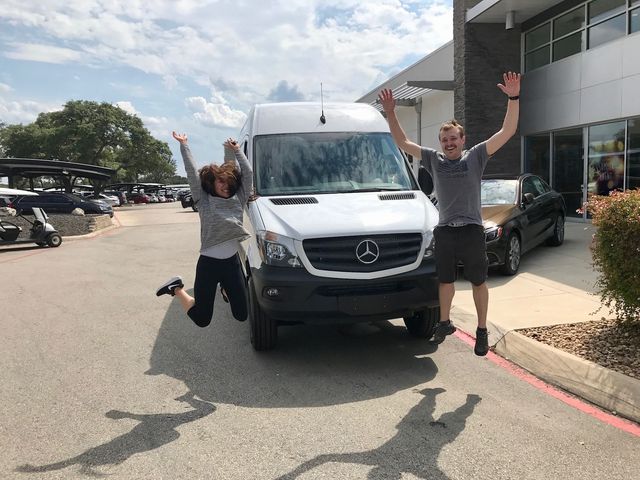 Description
Yoonjee and I found a Mercedes Sprinter Cargo Van, 4x4, High-roof, 144" with minimal options in Texas. Most vans meant for conversions are the long 170" wheel base. And most 4x4's are kitted out with all the options sending their starting price out of our price range. Instead I thought we'd start from scratch and build from there. This one only came with a backup camera and the cargo safety package which includes the L-track, floor boards and coroplast panels.
We started with a minimal setup. Just what we could brings with us on the plane and a Walmart run. It consisted of as air mattress, a camping stove, an rv toilet, a bucket and some chairs.
Once we got home I started with the conversion. Many people choose to plan the entire thing out. Tear everything apart and spend a few months building it out. I decided to take a modular and piece meal approach. The basic philosophy is that things should be light weight, inexpensive, easily removed and not permanent.
Start with the bed. Simple wood frame with slats. Hanging from crimp style tie downs. This allows us to mount the bed in multiple positions throughout the van either from the ceiling braces or the l-track. It also allows us to quickly and easily level the bed without having to level the van. It has the freedom of working at different heights. It can easily be "Murphy'd" out of the way for extra room or completely removed from the van in minutes.
The mattress was cut from a cheap 6" memory foam mattress bought off of Amazon. Marked with a chalk line and cut with an electric carving knife. This makes working with the foam a dream.
Next up was motorcycle storage. I simply attached two wheel chocks to the l-track on the ground. Custom mounting hardware and new holes required in the wheel chocks but mostly very simple. This securely attaches the wheel chocks to the bed of the van and makes loading and unloading a breeze.
Next up was the fan. Simply cut a 14"x14" hole in the top of your brand new van! This is the only exception I made to the rule of "permanent". Temporarily wired into power from a rear light. More on house power much later.
I also added some small stuff: phone mount, blacked out emblems to make it a little less (or more) bling-y, mosquito net (cheap amazon buy), curtains cut and sewn to fit between cabin, surfboard racks.
Next big thing were the swivel seats. I got these mostly because I thought they were cool. We almost never use them though. They are nice when we are only carrying a single bike on the hitch carrier and have the bed in the back configuration. Otherwise they aren't that useful.
House power was a bit scary thing to broach. I wanted a second battery that would charge off of the alternator but provide a power source to the lights, fan and outlets in the rear without possibility of draining the main battery. After months of reading, planning and trying to find a local shop to help (with no luck) I decided to give it a go. Essentially it's as easy as adding an ACR (automatic charge relay) between the two batteries, a bunch of big ass fuses and a fuse box for the aux circuit. The difficulty is running the wires, crimping a million ends and finding secure storage for all the new electronics. Luckily this all went fairly smoothly and nothing blew up. I also have easy access to the new fuse box under the drivers seat from the back. Everything is held down with industrial strength velcro. I also added a secondary display for additional gauges that connects to the ODBII port. This provides me with temps, fuel economy and voltage so I can make sure the batteries are working.
Finally I got around to the biggest, most time consuming job of insulating the interior and making a ceiling. Again, I wanted something light weight and easily removable. I went with "coroplast" or something similar which is pretty much just poster board. Corrugated plastic panels. Home depot sells it in sheets of 96"x48" which is big enough to make some decent sized panels. Unfortunately, it's not nearly as rigid and sturdy as what came with the van on the sides. It's also a little hard to work with when cutting across the flutes. After hrs of in and out of the van trimming the ceiling to fit I got something that, while didn't look stellar, would hold up some insulation. A few more hours of painstakingly hanging insulation with duct tape above my head and then re-installing the ceiling with a few extra finishing touches such as painted mounting hardware and white duct tape to smooth out the seams.
Lastly, I added a "bumper step" to make it a little easier to get in and out of. The van is already pretty tall and add another 5" of lift for the 4x4 and it gets pretty uncomfortable stepping in and out of the van. Really should have done that before the insulation. Thanks to my buddy Jay for the help. I installed the hitch myself and that was hard enough, the step went in a lot easier with a helping hand.
Some tips and tricks:
* Look into rivnuts. I used these to mount the battery tray and create anchor points for the ceiling. They are the combination of rivets and nuts. After you crimp them into an open hole you are left with threads.
* Consider being modular with your design. 90%+ blogs I see about van conversions and they look great, they are well thought out and everything comes together in a very purposeful way to fulfill the owners needs. My worry is that if those needs ever change you may be left with a suboptimal solution. Keep it cheap, functional and changeable and you'll get more mileage out of it but you may not impress as many people.
Feel free to post or contact me if you have any specific questions, I'd be more than happy to answer them.
Photos
Map