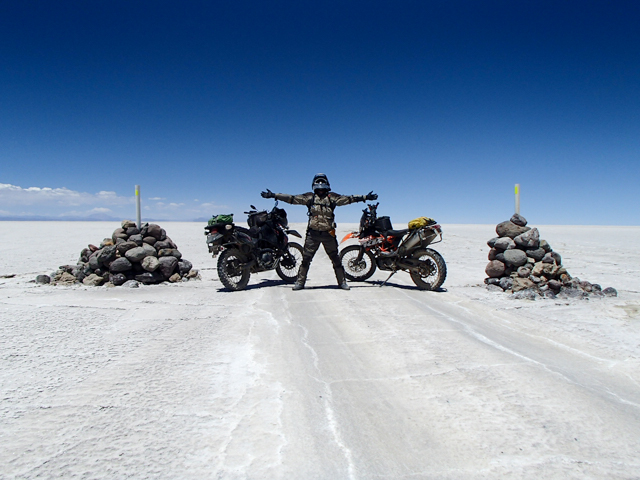 Stats
Distance: 158 km (98 miles)
Max Elevation: 4630 m (15191 feet)
Min Elevation: 3629 m (11906 feet)
Ascent: 2149 m (7051 feet)
Descent: 2015 m (6611 feet)
Description
We found a nice and cheap hotel in the town of Salinas that also had gas so we decided to do a day ride before heading into and across the salt flats. Volcano Tunupa is just off the north side of the salt flats and looked really cool as we drove into Salinas so we decided to look for roads up it.
Warning - most of my routes anyone can get through, maybe it'd take bigger bikes or less experienced riders longer or maybe it wouldn't be much fun but the point is for the most part they are doable safely. This route however I recommend for good dirt riders. There are loose, narrow, rocky, rutted out hill climbs. The hardest part being that you have to make 90 degree turns in the middle of hill climbs without loosing all your speed. It will test your clutch and throttle control as well as your balance as you bounce off baby head size loose rocks.
The views at the top were spectacular and the climbs were challenging. The KLR was getting bogged down due to the combination of altitude, steepness and looseness of the climb. I'm keeled over in one of the photos because I'm out of breadth getting back up the hill after walking down to help (take photos) of Tucker getting stuck. Then to make matters worse Tucker got a flat front tire. In classic Top Gear fashion I left him to try and see how far up I could make it. The rest of the climb was gnarly with 90 degree, sharp, narrow switchbacks that didn't level off at all. With my warn out rear tire that wasn't even a knobby to begin with I had to dig deep to make the climb.
After getting back down from the volcano we headed into the salt flats to check them out. We had a little fun and everything was going great until I hit one wet patch at 40 mph that covered me and my bike in salt. I found a clear water puddle and rode back and forth through it to try and clear some of the salt.
Photos
Videos
Map
Download GPX
Elevation Chart