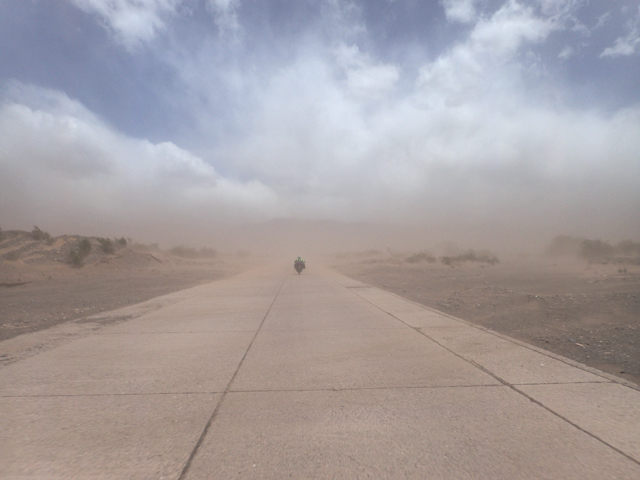 Stats
Distance: 568 km (353 miles)
Max Elevation: 2039 m (6691 feet)
Min Elevation: 529 m (1738 feet)
Ascent: 2821 m (9258 feet)
Descent: 3422 m (11228 feet)
Description
Todays ride had short bits of twisty fun but mostly high winds blowing sand storms around on a straight roads with beautiful views.
The story of the day though is the continuation of the KLR cooling system saga. I'll try and do my best to concisely sum everything up for the benefit of KLR owners. As most difficult problems there were multiple simultaneous failures.
First, the electrical system. The headlight, the tail light and horn all seemed to go out at the same time as the bike running a bit hot. The bike had coolant and didn't feel like it was running hot so we kept it in the white while getting it to Chilecitos. In Chilecito we found that the electrical failures were from a blown/shorted headlight bulb that also blew the main "lamp" fuse. Replacing the headlight bulb and the fuse fixed those issues.
On to the running hot. Tucker drained the coolant and removed the thermostat and the water pump cover to inspect things. He found two issues. One, the thermostat was jammed and bent open. Also, the water pump had a tiny bit of free spin on the end of the impeller shaft. Also, the overflow tank was melted shut due to poor design as it sits less than an inch from the header pipe. Tucker was able to repair the thermostat and stitch up the bike in our day off and the bike seemed to run well.
However, on our ride today his bike started running hot just an hour into the ride. The coolant level was low and didn't seem to be flowing. We added water from our camel packs. Shortly after the bike was still running hot so we removed the thermostat which still looked to be in working order.
Shortly after that the bike burned off all of its coolant and the bike overheated again. It's at this time that we suspected the water pump. Removing the water pump cover we found that the nut had stripped and the water pump blades could spin freely on the impeller. Luckily the the threads on the shaft were still good. New bolt and red lock tight this time. Stitch the bike back together…new water. Water leaking…forgot to tighten hose at top of the radiator. Tighten that and good to go.
Then my slowly leaking front tire turns into a full flat. Thorn. 6th flat tire!
Photos
Map
Download GPX
Elevation Chart