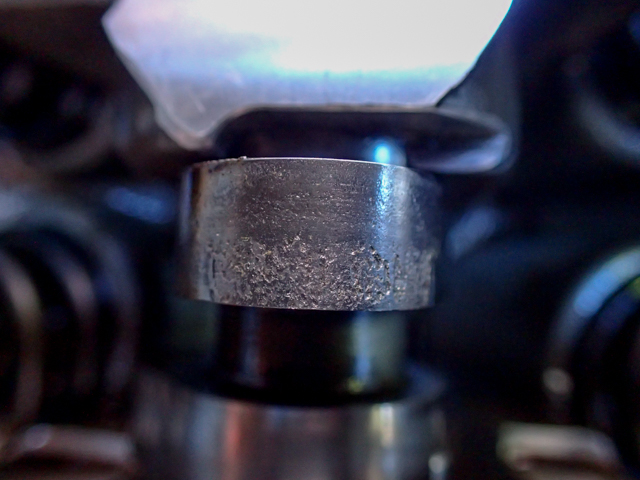 Stats
Distance: 156 km (96 miles)
Max Elevation: 1892 m (6210 feet)
Min Elevation: 561 m (1840 feet)
Ascent: 1789 m (5871 feet)
Descent: 483 m (1587 feet)
Description
The KLR cooling saga ends where the KTM valve train saga begins.
We get on the bikes in the early early morning cold to try and make Santiago today. Through the cold all you can hear is the clickity clack of the 690's valves. I hope that it's just the cold but I am running 10w60 oil and everything should be good in the cold weather. After 10 minutes I decide that Santiago isn't in the cards and that I should remove my valve cover and take a look. Sure enough…blown intake rocker arm bearing…again! I caught it pretty early this time…barely rough spinning and not a ton of movement and only slightly out of spec. Incredibly unfortunate, however, the camshaft was damaged. It was pitted at the top of the lobe. I smoothed it out a little bit with some sand paper but it's a pointless effort as the hardened coating on the cam shaft is already gone and the pitting is deep. Prognosis is that even after I put in my spare rocker arm I have limited miles left in the bike before I replace the cam shaft and unfortunately the rocker arm again. I'm hoping that the KTM shop in Santiago has the parts but I am not holding my breath. Further, I am hoping that KTM will pay for the parts this time as a goodwill service…really not holding my breath.
Unfortunately, even checking them all the time and listening for the valve noise there is no way to catch the rockers in time. This will be my second time replacing the cam shaft and my 3rd set of rocker arms. And I'll need a 4th intake rocker arm with the new cam shaft. These rocker arms have less than 15k miles on them. So that means you are needing to preemptively replace your rocker arms every 12k miles at $150 a pop!
We made it 100 more miles to the start of the pass to Chile with a gorgeous snow capped horizon. I checked my valves again and everything looks as it did. I am hoping it makes it the next 150 miles to Santiago.
Photos
Map
Download GPX
Elevation Chart